Dessine-moi un oiseau | Draw Me a Bird
10/07/2010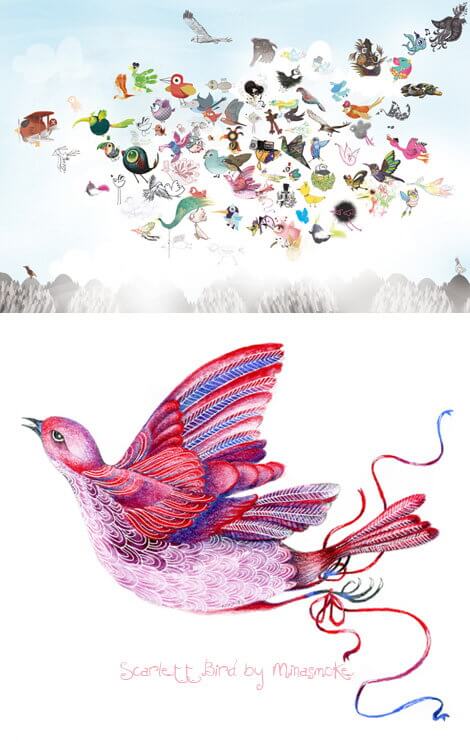 /FR
Bonjour tout le monde,
me voici de retour en France après de magnifiques vacances à Saint-Pétersbourg. Je reviens avec pleins de beaux projets à venir, dont je vous reparlerai au fur et à mesure. La première bonne nouvelle, c'est l'aboutissement d'un magnifique projet imaginé par Bishop : Dessine moi un oiseau. Le concept : Bishop souhaitait collecter des oiseaux dessinés par des artistes de styles et d'univers très différents et de les réunir dans une même image pour réaliser une « envolée d'oiseaux ». Le résultat est très sympathique, le site super beau, je vous laisse découvrir cette jolie collaboration !
(Parmis les artistes présents, découvrez Aby, Alexandra Petracchi, Barbara Brun, Bishop, Céline Voisin, Comoseta, Dose-prod, Elfie, JEYM, Kanzilue, Limoon, Lucie Georger, Marion Cocklico, Miss Miza…)
Le site c'est ici.
/EN
Hello, my dear readers!
I'm back from my vacation to the majestic Saint Petersburg with a lot of new projects, I will talk about it very soon.
First of all, I would like to present to you a really nice collective project imagined by Bishop: Draw me a bird. The web site is written in French, but the concept is simple and the pictures speak for themselves.
Bishop asked artists of very different graphic styles to draw a bird. With all our creations, he realised a new picture "Taking Off".
The participating artists' birds may be seen here, and Bishop's final picture is here.
Une réponse à « Dessine-moi un oiseau | Draw Me a Bird »