Tick Tock & Call Me
30/05/2013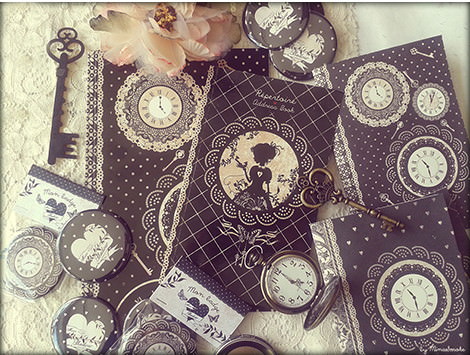 /FR
Vous le savez surement déjà, j'apprécie de travailler dans deux styles différents: d'un côté les œuvres toutes en couleur à l'aquarelle et de l'autre des œuvres en noir et blanc en technique digitale, un univers que je développe autour de mon personnage "Miss Shadow".
Travailler ces deux styles me permet de varier ma technique de travail: l'un en poursuivant mes recherches sur la couleur, l'harmonie des sujets et des formes; et l'autre en travaillant plus en efficacité et contraste avec un style plus graphique.
Une de mes bonnes résolutions de cette année était de me donner plus de temps pour développer la collection "Miss Shadow". J'ai enfin créé un logo (déposé officiellement), des packagings et surtout de nouvelles créations pour compléter cette collection!
Un répertoire, des coques iPhone et Galaxy S4, des carnets, des miroirs de poches et des badges réalisées à partir de mes visuels "Tick Tock" et "Call Me" viennent donc enrichir la boutique. Pour voir l'ensemble de ces produits, passez sur A Little Market, DaWanda ou Etsy.
/EN
You already know by now that I enjoy working in two particular styles: motley watercolours on one hand and monochrome digital pieces on the other — the universe I am developing around "Miss Shadow" character.
Working in these two styles allows me to vary my technique: colour experimentation and the harmony between the characters and their surroundings with one and working on efficiency and contrast with the more graphic other.
Finding the time to develop the "Miss Shadow" collection was one of my resolutions for this year. I finally created a logo (and registered it, too), packaging and – most importantly – new works.
So, an address book, iPhone and Galaxy S4 cases, notebooks, pocket mirrors, and pins made after "Tick Tock" and "Call Me" illustrations are coming to the stores. To see the entire "Miss Shadow" collection, head over to my Etsy store.